I combine expertise as a licensed therapist and advanced yoga teacher to create a comprehensive experience of healing and growth. I work remotely, through phone, video and messaging. Together we customize a plan that's right for you. Basically, it's really-feel-good therapy 🙂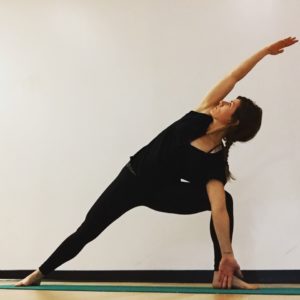 Licensed Therapist, Yoga Teacher, and Healer
I care for all clients of all populations, but my experience and heart most commonly attract those who have struggled with anxiety and depression, stress, trauma, post traumatic stress disorder, sexual assault, chronic illness, survivors of domestic violence and toxic relationships.
Communities that feel most comfortable with me are the LGBTQ+, Latino, Asian, liberally minded folk and those who are willing to try new things.
I am a fluent Spanish speaker, lover of nature, traveling, yoga, health, fitness and wellness, meat & fruit, running, and DEFYING expectations of SOCIETY! Be who you are, as you are.
Licensed Clinical Social Worker
Master of Social Work, Loyola University Chicago (2011)
I maintain a professional license in Illinois. Look me up here!
Bachelor of Arts, Illinois State University (2007)
Spanish Major, Sociology Minor
40 Hour Domestic Violence and Sexual Assault Trained, Community Crisis Center, Elgin, IL (2013)
Licensed Child Welfare Specialist, Department of Children and Family Services, IL (2007)
Variety of Presentations on topics related to immigration, nationally and internationally (Chicago, Minnesota, Mexico)
Published article on Mexican migration October, 2010
Certified Advanced Yoga Teacher
500 Hour Certified Yoga Instructor Advanced Teacher Trained, Asheville Yoga Center, North Carolina (2013)
200 Hour Ashtanga Yoga Trained, It's Yoga Nicaragua (2013)
Yoga Nidra Certification (2020)
Current teacher at Mantra Yoga in Carlsbad, California
Yoga for Depression Course taught at Cicero Family Services, Illinois (2014)
Teaching Yoga in Studios, Gyms, Chiropractic Office, Business, School settings, and Behavioral Health Settings (2013 to present)
Executive Assistant, SimplifiedFitness.io (2014-2015)
Teaches vinyasa, yin, restorative and yoga nidra formats